Cardiff Bay has a distinguished maritime history and was once the centre of the world coal trade.
The Cardiff Bay regeneration scheme has now transformed the old dockland area into a vibrant waterfront area.
CARDIFF BAY TOURS are delighted to take this opportunity to invite your group to visit and experience Cardiff Bay, and all its attractions, for yourselves.
Flexible tours arranged to suit you with experienced, knowledgable, friendly guides.
Try our most popular tours – whole morning or afternoon packages. Option to include boat trip or road train ride.

Sample our mini-tours! If you are visiting another attraction and you have limited time, we can still provide a boat trip, road train ride, waterfront walk or Barrage visit. You will be surprised how much we pack in!

Over 500 trips a year organized.

Customers include Senior Citizen groups, W.I. groups, Probus, Rotary, Church and social groups, clubs, societies, and many more!

Hear the whole story from King Coal and the history of Tiger Bay/Cardiff Docks through to the achievements of Cardiff Bay Development Corporation. Smooth running, stress free trip organized for you. Everything booked by us in advance with full itinerary, maps and coloured brochures provided.

Refreshments organized.

Combine a Baytour with City Centre tour, shopping or a visit to other nearby attractions eg. Millennium Stadium, Cardiff Castle, Museum of Welsh Life, Castell Coch.

Ideal Mystery Tour – surprise your group!

Conference and Corporate groups catered for.

Poems, Pints and Pirates! – Fun walking tour including pub visits and boat trip.

Children or youth groups welcomed eg. Brownies, cubs, scouts etc.
All our tours include a visit to he Cardiff Bay Barrage - Europe's most advanced civil engineering project. We accompany you there by coach, boat, or road train for a walking tour to the locks, sluice gates, and fish-pass.
Ahoy there shipmates! Sail away to Cardiff Bay and join in the pirate fun.
Dress up as Pirates or Pirate Princesses.
Educational and Entertaining - 3 hour tour for ages 3 upwards (Tours tailored to suit specific age groups or National Curriculum). Ideal for nursery groups, playgroups, schools, cubs/ brownies etc.
Includes:-
Boat trip (30 minutes)
All aboard the "Jolly Roger" pirate ship for a swashbucklin' trip to Barrage Island in search of hidden treasure.
No lily- livered landlubbers allowed!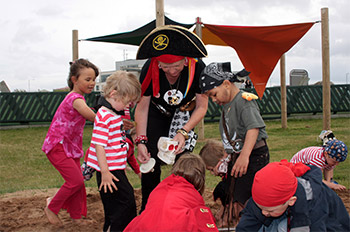 Pirate Treasure Hunt
Yarrgh me hearties!! Compasses at the ready to follow Welsh pirate Cap'n Henry Morgan's treasure map.
Solve the "message in a bottle" clues and discover the lost treasure chest.
Pirate playground, park and picnic area (outdoors)
Walk the plank, climb the rigging and splice the mainbrace on the sunken pirate ship set in a giant sand-pit. Join in the pirate games and bring a packed lunch (to avoid scurvy!). Don't forget your buckets and spades to dig for doubloons!
Road-train ride
Yo-ho-ho ! To finish our adventure, join in a pirate sing-a-long on our return journey to the Waterfront.
Hope to see you soon – shipshape and Cardiff fashion!
Cap'n Morgan, Cap'n Carol and crew
Lightship 2000
The Lightship was originally moored off the Gower at the Helwick sands, as a floating lighthouse to warn ships of danger. Visitors can now see the chapel, climb the light tower or enjoy the café.
Norwegian Church Arts Centre
Built 1869. Original church stood at the entrance to the Bute West Dock and was the centre of Scandinavian religion, culture and tradition. The church was deconsecrated in 1974, dismantled and then re-built in its current location. Roald Dahl and his sisters were baptized there.
Mission to Seafarers (Flying Angel)
A "home from home" for seafarers from around the world, providing recreation and support. Visit the chapel with its seaman's book of remembrance, the pages which are turned daily.
Coach or mini-bus journey to Mount Stuart Square, the old commercial quarter, passing the Coal Exchange building and the old St. Stephen's Church (now "The Point" arts centre).
Special talk and tour by the Imam at the Yemeni Mosque and Islamic Centre. View the minaret, main prayer hall, the mihrab, minbar and rooms for Wudo.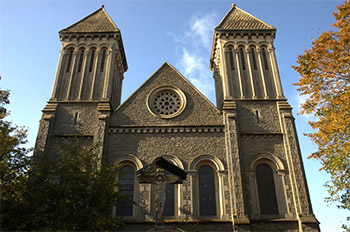 St. Paul's Methodist Church
Original church built 1865. Current church opened 1966 as a community church. Features include splendid cross made from ships' timbers.
Special tour and talk by Father Graham at St. Mary the Virgin Church, Butetown. Built 1843 – this imposing building and towers dominate the Butetown skyline. Discover the stunning interior including many nautical features, paintings and symbols including the statues of the apostles. The church also starred in the film "Tiger Bay" with Hayley Mills!
View the exterior of the Greek Orthodox Church of St. Nicholas with it's beautiful Byzantine style architecture. Built 1906 for Cardiff's Greek and Cypriot population who were attracted to the City by the shipping industry. Many settled in the area surrounding the church, which keeps alive the faith, social customs and traditions of their community.
Tour duration – 3 hours
Tour can be combined with a boat trip around the Bay and road train ride to the Cardiff Bay Barrage.